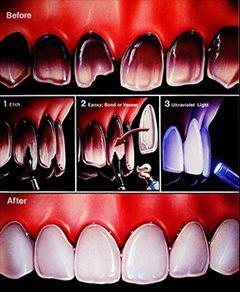 Procelain Veneers | Teeth Whitening
Having a healthy smile can boost your self-esteem. If you have ever wondered whether cosmetic dentistry could correct your smile, explore the numerous options and see what procedure is right for you; teeth whitening, porcelain veneers, and enamel shaping allows anyone to have the smile of a movie star without having a millionaire's bank account.

Porcelain Veneers: Veneers are a common and simple way to improve a smile without the pain and discomfort of major surgery. Years of eating, smoking, and drinking often leave teeth dingy and yellow, and certain diet choices can erode the amount of natural enamel that protects teeth against harmful bacteria. There were few procedures dentists could use to prevent premature decay and damage in the past, but the advances of porcelain veneers solved many of these problems.
By applying a protective porcelain shield to the front of a tooth, dentists found that it made their patients' teeth stronger and less likely to decay; they were generally whiter. Unfortunately, natural porcelain is rather brittle and cannot withstand the rigors of everyday exposure to hard foods and extremes of temperature. However, veneers made out of composite materials quickly replaced porcelain, and now many dentists and patients prefer this.
Veneers are easy to apply, easy to repair, and provide a good-looking, bright and healthy smile at very minimal costs. If you think you might benefit from a new look, contact a cosmetic dentist today. You deserve a beautiful, confident smile.
Teeth Whitening: Everyone wants to have beautiful bright white teeth. Unfortunately, many of us make certain diet and lifestyle choices that we ultimately pay for with faded, yellow, or stained teeth. Even with proper dental hygiene, a lifetime of eating, drinking and smoking will eventually take its toll by leaving stained teeth.
Fortunately, dentists have many teeth whitening options for restoring a refreshed look to your teeth through the process of cosmetic teeth whitening. More and more people are discovering how simple it is to improve their appearance with brighter and whiter teeth. Because teeth whitening has become more requested there are many kinds of over the counter teeth whiteners these days. However, over the counter teeth whiteners have unreliable results and could harm your teeth. So, it's highly recommended that you get your teeth whitened from those who are trained to deal with any kinds of side effects that may arise.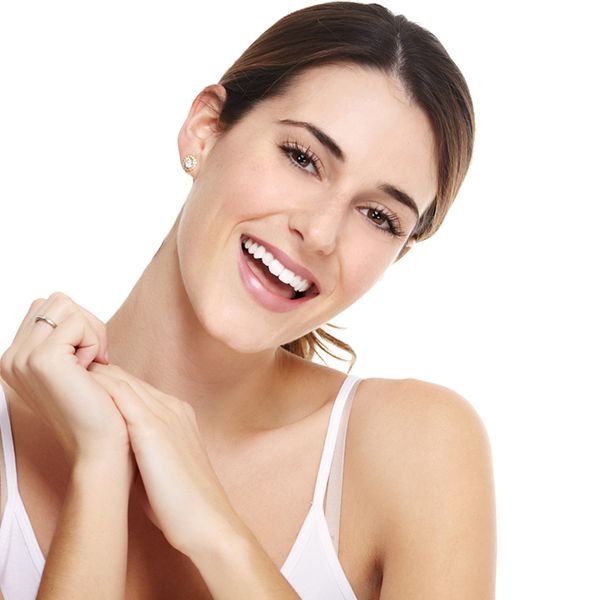 Discover how a healthy white smile via teeth bleaching can improve your life. Most people never realize how simple and affordable it is to have the smile of their dreams. If you want white teeth and would like to have a teeth whitening procedure, the smile you want is closer than you think. Contact an experienced cosmetic dentist in your area today for an estimate of your teeth whitening procedure.
Extreme smile makeover: Extreme Makeover dentistry usually has a reconstructive focus and involves many numbers of cosmetic and restorative procedures. An extreme dental makeover may require the restoration of the teeth, bite, and muscles to create a healthier and more aesthetically pleasing profile. Extreme makeovers often involve teeth whitening procedures, porcelain veneers, surgeries, orthodontia, and other options to achieve impressive results. Although, there is variety types of procedures involved in an extreme makeover, what has to be done all depends on the patient's needs.
You deserve a beautiful smile. An extreme makeover can help you obtain the appearance and self confidence you've always hoped for. Contact an experienced and well regarded cosmetic dentist today and take steps towards a brighter tomorrow.